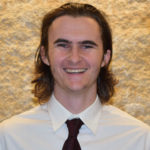 March 16, 2018 – As part of our Biola Lacrosse Connections newsletter, we feature a player from the current team, and ask them "Why did you choose to join the Biola lacrosse team?" March's featured player is Jake Saxton. Jake is a sophomore attackman from Yorba Linda, CA. Here's why Jake chose to play lacrosse at Biola:
I have been involved in sports ever since I can remember. My first word as a baby was "ball." The idea of being on a team where you are surrounded by guys who share common interests had always intrigued me from a very young age. I had played basketball all my life up until my sophomore year of high school when I quit the team due to losing my passion for playing the game competitively. I then joined the high school lacrosse team where I ended up playing three years. I loved how competitive and aggressive the sport was and it always kept me in shape when I wasn't playing basketball somewhere.

Sadly, my time with my lacrosse had to discontinue come my senior year due to my poor grades going into my senior year. I knew that I wanted to go to a university right out of high school, so I had to sacrifice something in order to make that happen. It was definitely a tough transition for me from playing sports my entire life to not being a part of a team of any sorts and strictly focusing on my studies. Luckily for me I ended up getting accepted to Azusa Pacific after my senior year. I was beyond grateful to be accepted to this school, but I definitely felt the toll on my body after not playing a sport or exercising much for almost two years.

As I began to rethink my decision on my enrollment at APU, I began to pray night after night in my dorm as to what God wanted me to do. That Sunday night, I attended Singspiration for the first time at Biola as an APU student because I had heard from friends how cool the experience was. After the chapel, I began to walk out of the school gym when I bumped into a former teammate of mine, Jacob Newport, who I played high school lacrosse with. I hadn't seen or spoken to Jake for about two years, but it felt as if we never stopped. He mentioned that Biola had a lacrosse team and how it was nothing like he had ever experienced in a sport before. I thought it was neat to hear how great it was for him, but had zero intention of ever playing lacrosse again.

Well, here I am now. I transferred from APU to Biola and I am on the lacrosse team and I absolutely love it. Jake was right. This is nothing like any other sports team I have been a part of. Not only is it just a brotherhood, but I know win or lose, every single guy on this roster has my back and I have theirs. The fact that we pray before every practice and after every practice allows me to know that we are not just lacrosse players who are Christians, but we are Christians who enjoy and play the sport of lacrosse together. I know I will look back one day and know that this is what God had planned for me all along.
CLICK HERE to learn how you can support Jake and his teammates.