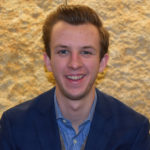 April 20, 2018 – As part of our Biola Lacrosse Connections newsletter, we feature a player from the current team, and ask them "Why did you choose to join the Biola lacrosse team?" April's featured player is Collin Hardy. Collin is a junior longstick midfielder from Chino Hills, CA. Here's why Collin chose to play lacrosse at Biola:
I decided to join Biola Lacrosse, at first, because I wanted to have some sort of athletic outlet in college. I grew up playing competitive sports and I knew that intramural sports just wouldn't cut it in terms of competitiveness. My freshman year, I talked to some guys that were on the team and they encouraged me to come and just try out once. Growing up playing ice hockey, I thought that lacrosse would be an easy transfer of skill, which was both true and false, and my background in long distance running would make it a natural transition.

Soon after that short conversation at the club fair, that "just come out once and try it" turned into a passion for lacrosse that continues to drive me forward. Once I joined the team, I saw a team that was different than other teams I had been a part of; a team that started and ended every practice with prayer. I am so grateful and thankful for this group of brother to sweat with, to work with, and to strive towards being more like Christ with.
CLICK HERE to learn how you can support Collin and his teammates.