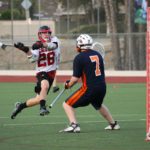 March 30, 2012 – The Biola University men's lacrosse team remains unbeaten in conference play, moving to a 4-0 record with a win over Pepperdine University. The win put's Biola in excellent position to receive the top seed in the Western half of the Southwestern Lacrosse Conference playoffs. A top seed would give the Eagles a first round bye, and a direct line to the conference semi-finals.
The win did not come easily for Biola, nor did it come without losing a critical piece of the midfield. Early in the first quarter, senior midfielder David Sigley went down with an injury during a clearing opportunity; Sigley would be remain out for the rest of the game. Biola managed to outscore Pepperdine in the first, 4-3, despite the damper that Sigley's injury put on the game.
The Eagles bounced back in the second quarter, pouring in six goals. Pepperdine only managed one goal in the second, and Biola took a 10-4 lead into the half. Both teams were deadlocked in the third quarter with three goals each, keeping the Eagles' lead at six.
Pepperdine fought back in the fourth quarter, scoring five times in the final frame. Biola put three goals on the board to help preserve a 16-12 win.
The Eagles were lead by senior attackman Marc Morgan, who fittingly scored six goals and added two assists during Biola's senior night. Fellow senior attackman Adam Kingston was held without a goal, but assisted on five of Biola's 16 goals. Rounding out the attack line was junior Jeff Clark who scored three goals and tallied one assist. Despite being a junior, Clark was also playing in his senior night game, as he will be graduating prior to the Eagle's next season.
Senior midfielder Jon McMahan recorded three goals, and senior Austin Foxworthy added a goal for the Eagles. Freshman midfielders Matt Young and Josh Nordstrom represented the underclassman, with two goals for Young and one goal for Nordstrom.
Biola dominated the faceoff 'X', winning 17 out of 26 faceoffs. Junior midfielder Joel Williams took the bulk of the draws, winning 12 of 20. Junior midfielder J.T. Moranski went two for three, and Young was a perfect three for three the help the Eagles control the ball. Senior goalie Sean Lane recorded 10 saves in the win.