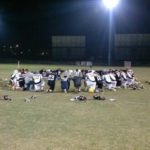 April 11, 2014 – The Biola University Eagles men's lacrosse team closed out their 2014 regular season with a road win against the Anteaters of U.C. Irvine. The win brings the Eagle's overall record to 10-5, a noted improvement over the 4-12 regular season record of the 2013 season.
Biola started out hot on both ends of the field, scoring five goals on the offensive end and shutting out UCI on the defensive end. The Anteaters didn't give up following the first, and outscored Biola 3-2 in the second quarter, giving the Eagles a 7-3 lead at the half. UCI cut their deficit to two goals in the third quarter before Biola's offense came alive for four goals to extend the lead. The Eagles tacked on five more goals in the fourth to ensure the 16-8 win.
In what has come to be expected, David Shaum (So., attack) lead the Eagles in scoring with seven goals and one assist. Jon Prichard (Fr., Attack) scored three goals with two assists, and Eric Gamelson (So., Attack) dished out three helpers to round out the attack scoring. The midfield was lead by Riley Corbett (Jr., Midfield) with three goals, and Bryce Hummel (Fr., Midfield) with one goal and two assists. Josh Nordstrom (Jr., Midfield) added two goals from the midfield ranks. John Harzan (Fr., Goalie) recorded five saves in the win.