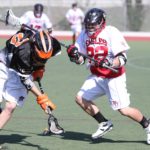 April 5, 2014 – The Biola University Eagles men's lacrosse team clinched the third, and final, postseason spot in the Southwestern Lacrosse Conference's Division 2 North section via a win over the Occidental College Tigers. The 2014 postseason will be Biola's fifth straight trip to the playoffs, and sixth trip overall.
Both teams played a tight first quarter, knowing that a trip to the playoffs was in the balance for both teams, leading to a 2-2 tie after the first quarter. The Eagles blew the game open in the second quarter, winning the quarter 7-1, and taking a 9-3 lead into halftime. The Tigers fought back in the third, managing to outscore the Eagles by one, 4-3, in the third. Biola responded in the fourth quarter, outscoring Occidental 6-5 in the fourth quarter to seal the 18-12 win, and the final spot in the playoffs.
Bryce Hummel (Fr., Midfield) lead Biola in total points with two goals and four assists, while going 12/23 at the faceoff X. David Shaum (So., Attack) and Jon Prichard (Fr., Attack) lead the Eagles in goals with five each. Eric Gamelson (So., Attack) rounded out the attack scoring with three goals and one assist. Additional midfield scoring came from J.T. Moranski (Sr., Longstick Midfield), Riley Corbett (Jr., Midfield), and Josh Nordstrom (Jr., Midfield) who all chipped in with one goal; Corbett added one assist for his two total points. John Harzan (Fr., Goalie) made a season-high 20 saves in the win.