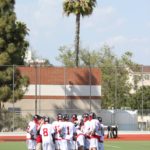 The 2014 Biola University men's lacrosse season marked a season of improvement over the previous season in many ways. To start, the team's 10-5 regular season record shows the biggest improvement over 2013's 4-12 regular season record. The 2014 team scored 216 goals and gave up 151, compared to the 2013 team who scored just 122 goals and gave up 209. Those numbers break down to a 2014 game average of 14.4 goals per game and 10.1 goals against per game. Compare that to 2013's averages of 7.6 goals per game and 13.0 goals against per game and the improve really stands out.
Not only did David Shaum (So., Attack) lead Biola in scoring, but his 64 goals and 23 assists lead the nation and the conference in goals and total points. Additionally, he ranked fifth in the nation in assists and ninth in ground balls, and takes his place on the top of Biola's all-time season scoring records. Jon Prichard (Fr., Attack) wasn't far behind, and his 53 goals and 15 assists landed him sixth nationally in goals and ninth in total points. In the conference, Prichard found himself third in goals and total points. Eric Gamelson (So., Attack) rounded out the 2014 attack starters with 18 goals and 25 assists, good enough to be ranked 18th nationally in assists, fourth in the conference in assists, and 10th in the conference in total points.
A trio of midfielders eclipsed the 30-point plateau this year: Bryce Hummel (Fr., Midfield), Josh Nordstrom (Jr., Midfield), and Riley Corbett (Jr., Midfield). Hummel lead the midfield with 31 goals and 20 assists, all while amassing 85 ground balls. His numbers earned him the fourth spot in the national ground ball race, the lead in the conference ground ball war, the seventh place for goals in the conference, and the eighth conference spot for total points. Nordstrom tallied 20 goals, 18 assists, and 57 ground balls after returning to the midfield ranks in 2014. He ranked 12th nationally in ground balls and third in the conference for ground balls. Corbett upped his offensive production dramatically in 2014, amassing 19 goals and 11 assists, up from his three total points in his first two seasons.
Rounding out the midfield scoring were Matt Casto (Fr., Midfield) with four goals/six assists, Brian Lee (So., Midfield) with two goals/one assist, Isaac Delgado (So., Midfield) with one goal, and Zechariah Liszewski (Fr., Midfield) with one goal in an injury shortened season. The Eagle's do-it-all long-stick midfielder, JT Moranski (Sr., Midfield) got in on the act with two goals and two assists with the long-pole, including a goal on Senior Day. Even the defense helped lead the scoring threat with Justin Ahn (Sr., Defense) and Harrison Pierce (Fr., Defense) notching an assist each.
John Harzan (Fr., Goalie) becomes Biola's all-time leading scoring as a goalie, with one goal and one assist. When he wasn't taking the ball down field, Harzan made 164 saves and collected 31 groundballs. His numbers earned him a national ranking of fourth in total saves and seventh in ground balls; in the conference Harzan ranked first in both total saves and ground balls.