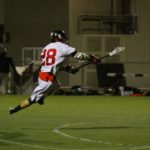 March 14, 2012 – Biola played host to the University of Portland, narrowly winning against Portland's late onslaught. Both teams played a game of possession in the first half, with a 1-1 game after the first quarter. The Eagles scored once in the second quarter to extend their lead to 2-1 at the half.
Biola's defense continued to hold Portland scoreless in the third quarter, helping the offense extend the Eagles' lead by three, entering the final quarter with a 5-1 lead. Both teams were scoreless until late in the fourth quarter when Portland went on a four goal run to knot the score at 5-5 with just minutes left. Biola would score once in the fourth quarter, but that lone goal proved to be the difference maker. Junior attackman Jeff Clark picked up a loose ball at midfield and sprinted to the goal, scoring the game winner with six seconds left to seal the victory.
Clark lead Biola in scoring, netting three of Biola's six goals. Senior attackman Adam Kingston, senior midfielder David Sigley, and junior midfielder JT Moranski all scored one goal each. Freshman midfielder Josh Nordstrom tallied Biola's lone assist. Senior goalie Sean Lane stopped 12 of Portland's shots on the night.