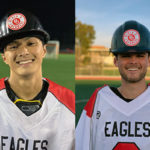 Updated April 18, 2019 – If you follow us on social media you've no doubt seen the photos of our Relentless Effort Bucket recipients, but what does it mean? One of our team's core culture beliefs is Relentless Effort, leading us to never quit, no matter the circumstances. Each game a recipient is chosen who best demonstrates that belief during the game.
Recipients thus far have been:
Caleb Koopman: 2/9 at University of San Diego
Garrison Thompson: 2/16 at Claremont Colleges
Michael Howard: 2/21 vs. Dominican
Garrett Scannell: 2/28 vs. Northern Arizona
Josh Bernstein: 2/28 vs. USC
Jonathan Shaw: 3/16 vs. CSU Channel Islands
Collin Hardy: 3/21 vs. UC Irvine
Jacob Newport: 3/28 vs. Western Washington
Harrison Langer: 3/30 vs. CSU Long Beach
Cole Baker: 4/13 at Loyola Marymount
Garrett Scannell & Caleb Koopman: 4/17 at University of San Diego
Relentless Effort is only one of our four core beliefs, however. For One, Uncommon Commitment, and Team First make up the other three beliefs we have as a team. All players who are chosen as Relentless Effort leaders in game, along with any player observed putting our core beliefs into action, receive an eagle talon award sticker on their helmet.
Players who have received a helmet award for culture in action thus far have been:
Jacob Newport: For One in action, post-game prayer with an opposing player
Cole Baker: For One in action, post-game prayer with an opposing player
Tanner Myatt: Team First in action, helping an injured teammate off the field
Collin Hardy: For One in action, post-game prayer with an opposing player
Joshua Choi: For One in action, post-game prayer with an opposing player
Adrian Manzanares: Team First in action, consistently bringing water bottles to teammates during timeouts