May 9, 2016 – The 2016 Biola University men's lacrosse team found themselves updating the record books at the end of the season. Seven different players found themselves making new Top-10 marks in both season and career categories.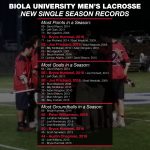 Junior midfielder Bryce Hummel and junior attackman Jon Prichard both set new marks for Most Points in a Season with 72 and 63, respectively. Hummel and Prichard also found themselves setting new records for Most Goals in a Season with 56 for Hummel and 50 for Prichard. Sophomore rookie midfielder Peter Williamson, graduate student Austin Chapman, and Hummel all set new marks for Most Groundballs in a Season. Williamson, who became the go-to player for faceoffs, gobbled up 66 groundballs, Hummel nabbed 50, and Chapman grabbed 44.
Biola players also set new career records for groundballs and saves. Hummel overtook Josh Nordstrom (2015 Graduate) for the top spot in Most Groundballs in a Career with 177. Junior defenseman Matt Casto, sophomore midfielder Andrew Casto, Prichard, and Williamson also joined the all-time ranks in the groundball category. Senior goalie Isaac Delgado, who took over as goalie exactly half-way through the season, stopped 70 shots, good enough for the 7th spot on the list for Most Saves in a Career.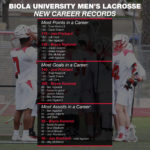 Continuing with the career records, the 2016 Eagles team also set career records for points, goals and assists. Prichard and Hummel both vaulted themselves up the Most Points in a Career list, with 175 and 158, respectively. Prichard overtook Brad Westcott (2009 Graduate) for first place on the Most Goals in a Career list, taking his total to 140 through three seasons. Hummel also found himself on the goal list, with his 56 goals in 2016 moving him into fifth place all-time. Hummel and Prichard continued their assault on the record books with the Most Assists in a Career category, finding themselves at fourth and ninth, respectively.
In addition to their record setting performances, Hummel and Prichard earned Southwestern Lacrosse Conference honors for the 2016 season. Hummel earned a spot on the First Team as an All-SLC midfielder, while Prichard earned a spot on the Second Team as an All-SLC attackman.