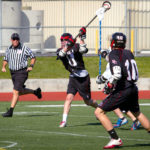 April 22, 2013 – Despite a record that fell short of expectations, the Biola University men's lacrosse team find themselves in the Southwestern Lacrosse Conference playoffs for the fourth year in a row. The Eagles have been to the playoffs every year of the conference's existence, as they split from the Western Collegiate Lacrosse League after the 2009 season.
Biola's season started out with four straight losses, two at the hands of MCLA Div. II teams who finished the regular season ranked in the top 20 in the nation. Their first conference game was also their first win of the season, as they took town Marymount 20-3. After another four-loss skid, the Eagles posted back-to-back wins over Cal Lutheran and Central Washington.
Biola closed out their season with one win sandwiched between two losses. Their 3OT win over Channel Islands saved their post-season hopes, giving them three conference wins on the year. The Eagles played very tough competition throughout their 4-12 season, with three games against MCLA Div. I teams, and four games against nationally ranked Div. II teams.
Josh Nordstrom (So., attack) lead the team in overall scoring with 44 points on 25 goals and 19 assists. Newcomer David Shaum (Fr., attack) wasn't far behind with 41 points on 37 goals and 19 assists. David Martin (Jr., midfield), Eric Gamelson (Fr., attack) and Bobby Welty (Sr., midfield) all notched 12 goals during the season. Those three players also had five, two and seven assists, respectively.
Scoring also came from: Scott Gamelson (Sr., midfield), 7G 5A; J.T. Moranski (Jr., midfield), 6G 3A; Joseph Bartels (So., midfield), 4G; Andrew Cleary (Jr., midfield), 3G; Kyle Spence (Sr., midfield), 2G 2A; Joel Williams (Sr., midfield), 2G 2A; Ryan Lucas (Sr., midfield), 1G 1A; and Justin Ahn (Jr., long-stick midfield), 1G. Scott Gamelson lead the team in groundballs with 44, and Williams won 139 of the 264 face-offs he took, good enough for 52.6%.
Jeremy Glimp (So., goalie) played through a hamstring injury for part of the season, and managed to post 50 saves and a 43.5% save percentage. His replacement in the cage, Alex Tarr (Sr., goalie), converted from long-stick-midfield part-way through the season. Tarr saved 88 shots on a 41.3% save percentage having never played the position before.
Biola loses seven players through graduation in 2013, but currently have five commitments from 2013 high school graduates:
Jon Prichard, Attack, Wheaton Academy, IL
Harrison Pierce, Defense, Golden High School, CO
Bryce Hummel, Midfield, Woodinville High School, WA
Matt Casto, Midfield, Wheaton Academy, IL
John Harzan, Goalie, Orange Lutheran High School, CA