Eagles Upend Cal Lutheran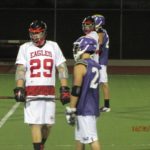 April2, 2011 – The Biola men's lacrosse team took down the Cal Lutheran Kingsmen to win their second conference game of the season. The win takes Biola's conference record to 2-2 this season.  The Eagles started somewhat slow, scoring only twice in the opening quarter, but held the Kingsmen scoreless. The second quarter was much of the same, with Biola extended their lead with four goals, and shutting out Cal Lutheran, for a 6-0 lead at halftime. In the second half Cal Lutheran managed to get two goals on the board, but Biola responded with three in the third quarter, and five goals in the fourth.
Sophomore attackman Jeff Clark led all scorers with 10 points on seven goals and three assists. Junior midfielder David Sigley posted two goals and two assists, while junior attackman Marc Morgan and sophomore midfielder Scott Gamelson both notched two goals. Freshman attackman David Martin found the back of the net once, senior midfielder Scott Shiokari tallied an assist and senior defenseman Sean Lane had two helpers in the game. Freshman goalie Jimmy Perdomo-Hazen went largely untested in the game, recording four saves.