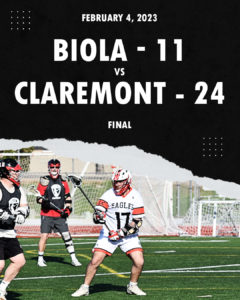 February 4, 2023 – The Biola University men's lacrosse team opened the 2023 season on Saturday with a visit to Claremont for an SLC D2 North division clash. A shorthanded Eagles team, playing with just 12 players, fought hard but ultimately came up short, falling 6-24.
Senior midfielder Henry Beck lead Biola in goals with two on the day, while grabbing eight groundballs. Beck's two point day was matched by freshman attackman Perrin Mullinax who tallied a goal and an assist in his first ever game. Sophomore attackman Caden Booth, freshman midfielder Caden Leedy, and sophomore attackman/midfielder Jesse Perez each added a goal for the Eagles. Freshman midfielder Aden Carrillo scored his first collegiate point on an assist to Beck in the first quarter.
Sophomore goalie Jason Loftis recorded 21 saves in his first collegiate start in goal. Loftis, who played multiple positions in 2022, has found a new home in the goal for Biola; a position he is familiar with having played part of his high school career in the cage.
Next up for the Eagles: UC Irvine makes the trip north to La Mirada to take on Biola at 7pm on Saturday, February 11.