Time Runs Out on Biola's Comeback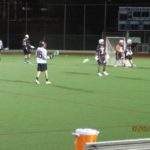 March 23, 2011 – The Biola men's lacrosse team ran out of time in the final stages of their game against Metro State, ending their comeback bid. After a close first quarter that ended in a 2-2 tie, Biola managed to win the second quarter, taking a slim 5-4 lead at halftime. Metro State came out of halftime ready to fight, putting five goals on the scoreboard to take over the lead, with a 9-7 score heading into the final quarter. Biola outscored Metro State 2-1 in the fourth, but it was not enough to overtake the lead. Junior attackman Marc Morgan scored to put Biola within one. With 27 seconds left, the Eagles were unable to secure the ensuing face-off, and Metro State was able to run out the remaining time for the 10-9 win.
Sophomore attackman Jeff Clark led Biola in scoring with three goals and one assist. Not far behind was Morgan, who ended the game with two goals and one assist. Junior midfielder David Sigley score twice, while senior defenseman Sean Lane and sophomore midfielder Robby Roach each scored once. Senior defenseman Justin Harrington and freshman attackman David Martin both chipped in with one assist each. Freshman goalie Jimmy Perdomo-Hazen ended the game with seven saves.