Posts tagged
bryce hummel
Feb. 8, 2014 – The Biola University Eagles hosted The Claremont Colleges Cougars in their second game of the season at Biola University. Both teams started the game on a tear, scoring nine goals combined in the first quarter. Biola scored five goals on six shots in the first quarter, taking a 5-4 lead.
Both teams slowed down after the first, and the defenses started to show up, with both teams trading goals in the second and third quarters. The Eagles took a 6-5 into halftime, and an 8-7 lead More >

Feb. 6, 2014 – The Biola University Eagles hosted the St. Mary's College Gaels in the 2014 season opener at Biola University. The Gaels jumped out to a 4-1 lead in the first quarter, but it was the second quarter that did the Eagles in.
St. Mary's outscored Biola 7-2 in the second quarter, taking an 11-3 lead into halftime. The Eagles could only muster one goal in each of the third and fourth quarters, and were outscored by four goals in the second half. The Gaels went on to win in comfortable More >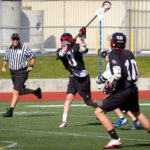 April 22, 2013 – Despite a record that fell short of expectations, the Biola University men's lacrosse team find themselves in the Southwestern Lacrosse Conference playoffs for the fourth year in a row. The Eagles have been to the playoffs every year of the conference's existence, as they split from the Western Collegiate Lacrosse League after the 2009 season.
Biola's season started out with four straight losses, two at the hands of MCLA Div. II teams who finished the regular season ranked in More >