Biola Bounces Back With Win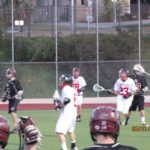 March 21, 2011 – The Biola men's lacrosse team bounced back from their Saturday loss, as they played host to the visiting Wildcats of Central Washington University. Six separate Eagles found their way onto the scoring sheet, as Biola's offense found their stride. The Eagles went up early, taking a 3-1 lead into the second quarter. Central Washington struck first in the second, but Biola answered with two goals of their own, including sophomore midfielder David Sigley's circus goal right in front of the crease as he was falling down. Biola put in four more in the third quarter, stretching their lead to 9-3 going into the final frame. Central Washington tried to mount a late comeback, but their four goals were equaled by the Eagles, leading them to the 13-7 victory.
Sophomore attackman Jeff Clark continued his scoring ways, leading the way for Biola with four goals and three assists. Not far behind was Sigley with three goals and one assist.  Sophomore midfielder Scott Gamelson chipped in three goals in his second game back from a turn at attack. Junior attackman Marc Morgan came away with one assist, but his two goals in the fourth, both in the fourth quarter, helped spur the Biola offense on late in the game. Sophmore midfielder Jairus Burish netted his first career goal, and freshman attackman David Martin collected an assist in his second game back from an ankle injury. Freshman goalie Jimmy Perdomo-Hazen stood tall again in goal, collecting eight saves in the win.
David Sigley's Circus Goal: